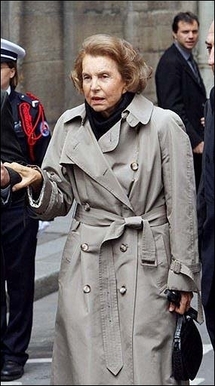 Francoise Bettencourt-Meyers claims that her 86-year-old mother, France's richest woman, was charmed by an unscrupulous dandy 25 years her junior into parting with close to a billion dollars in artworks, gifts and life insurance.

She has filed suit against Francois-Marie Banier, 61, Latin Quarter artist, jet-set photographer and long-standing friend of the Bettencourts, suggesting her mother's faculties must be impaired for her to part with such a vast sum.

According to letters published by Le Monde newspaper, Bettencourt -- who insists she is a "free woman" in full grip of her senses -- responded with a threat to slash her child's share of a fortune estimated by Forbes magazine at 23 billion dollars.

But in an interview with the Journal du Dimanche, Bettencourt insisted she had done nothing to fritter away her capital, and that her daughter would inherit the family's full 30-percent stake in L'Oreal.

"She will get everything when I die," she said, asking "What on earth has got into her?"

"What I gave to Francois-Marie Banier, although it is a large sum, is really not that much when put in proportion," she said, without confirming the value of the gifts.

Bettencourt accused her 55-year-old daughter -- with whom she has no contact -- of acting out of "meanness" or to "settle old scores".

"Jealousy could be part of it," she said, suggesting her "introverted" daughter suffered in contrast with Banier, a flamboyant figure whose intimates have ranged from Salvador Dali to the Hollywood star Johnny Depp.

Mother and daughter long worked hand in hand to manage the family's stake in L'Oreal, and retain control of the group whose second-biggest shareholder is the Swiss giant Nestle.

But Bettancourt said their personal relationship was over.

"I don't see her any more and I don't want to," she said.

Bettencourt acknowledged that Banier had an "interest" in their friendship, but flatly denied she was manipulated by him.

"Do you think I can be brought under someone's thumb so easily?."

According to testimony leaked to news magazine Le Point, she signed over life insurance contracts to Banier worth more than 600 million euros in 2003 and 2006, both times after a stint in hospital.

Investigators are close to wrapping up their probe into the daughter's claims and will shortly decide whether to press charges, according to judicial officials.

Bettencourt denied reports that she had asked President Nicolas Sarkozy to intervene to halt the probe -- saying he "has enough work to do as it is."

But in letters to her daughter, Bettencourt had voiced concerns about the damage the lawsuit -- were it to become public -- could do to her credibility and that of the global cosmetics giant.

Mounting media attention to the dynastic battle forced Bettencourt's estate on Wednesday to issue a statement to friends and L'Oreal staff, reassuring them that she was in "excellent" health.

Bettencourt told the Journal du Dimanche she had seen a psychiatrist, at her daughter's request, following her husband's death late last year, who told her "nothing was wrong."

According to judicial officials, Bettencourt has so far refused to undergo a mental health check. If judges decide to press charges in the case, they will be able to order a psychiatric evaluation without her consent.