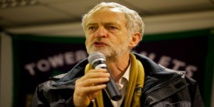 He was apparently referring to amendments to Conservative Prime Minister Theresa May's planned motion asking parliament's main elected house, the Commons, to support her Brexit plans in voting on Wednesday.
But with the clock ticking down on Britain's departure from the EU, currently scheduled for March 29, it remained unclear whether Labour plans to back a second referendum this week or in later votes.
May promised on Sunday to give lawmakers another "meaningful vote" by March 12 on the Brexit deal, after she suffered a crushing defeat in the first vote last month.
"One way or another, we will do everything in our power to prevent 'no deal,'" Corbyn said in advance remarks from his speech to Labour lawmakers.
"That's why, in line with our conference policy, we are committed to also putting forward or supporting an amendment in favour of a public vote to prevent a damaging Tory Brexit being forced on the country."
Labour said it will also table a new amendment to May's motion on Tuesday to "enshrine Labour's five Brexit demands in law."
Those demands include Britain remaining in a "permanent and comprehensive customs union with the EU" after Brexit and "close alignment" with the EU single market.
"If parliament rejects our plan, then Labour will deliver on the promise we made at our annual conference and support a public vote," tweeted Keir Starmer, Labour's shadow Brexit secretary.
Labour lawmaker David Lammy, a leading supporter of the People's Vote campaign for a second referendum, welcomed Corbyn's commitment, which follows the resignations of nine lawmakers from the party this month and increasing pressure on the leader to support a new referendum.
"It is welcome news that the Labour party is now, at long last, signalling it will accept the principle of giving the public the final say on Brexit," Lammy said in a People's Vote statement.
"Even if MPs can agree some sort of deal, it would be wrong to force it on the British people when we now know so many of the promises made in 2016 [by Brexit campaigners] have been broken and any deal will be worse than the one we've already got inside the EU," he said.
"These are dangerous times for the Labour party and our country," Lammy added.
Earlier Monday, May said an agreement for Britain to leave the European Union as scheduled on March 29 remained "within our grasp," amid pressure to extend negotiations.
She is expected to make a statement to parliament on Tuesday before several votes on Wednesday on her motion regarding her planned next steps in the Brexit process.