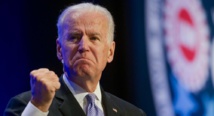 But even as Hispanics are expected to comprise the largest nonwhite voting bloc in the 2020 election, leaders of the community concede that Latina women enter the veepstakes process as less likely prospects, rather than top-tier hopefuls - the result of a still-maturing power base that's yet to be fully realized.
Elected officials, interest groups and Hispanic operatives are planning to present a case for a handful of Latina prospects to the Biden campaign. But at the same time, they are emphasizing that some type of ethnic diversity is the most important ingredient for a Democratic ticket that will all but certainly be helmed by a 77-year-old white man.
"The Latino community has the potential to be kingmakers and queenmakers. We actually have larger numbers than African Americans, but I think we have a little work to do in flexing our muscle," said
Maria Cardona
, one of the top Latina Democratic strategists in the country, noting that the turnout rate for Latinos remained below 50 per cent in 2016. "We're leaving so much power on the table."
Latinas will almost certainly appear on Biden's vetting list, which he said on "The View" on Tuesday would be narrowed to "about 11" in the coming weeks and will include only women.
Catherine Cortez Masto
of
Nevada
, the first Latina elected to the
US Senate
, is the first name cited almost universally by Hispanic leaders as a credible contender.
A former state attorney general and gubernatorial chief of staff, and the current chair of the Democratic Senatorial Campaign Committee,
Cortez Masto
boasts an impressive resume. Yet the 55-year-old first-term Mexican American senator is largely an unknown figure outside of
Nevada
and
Washington's
small coterie of national Hispanic interest groups.
Democrats
are also floating names such as
New Mexico's
Michelle Lujan Grisham
, who's the first Democratic Latina governor and a former congresswoman, and Reps.
Veronica Escobar
and
Sylvia Garcia
, the first two Latinas elected to
Congress
from
Texas
in 2018.
California Rep.
Tony Cardenas
, who chairs the fundraising
PAC of the Congressional Hispanic Caucus
, said he's prepared a list of five Latinas for the Biden campaign, including California Rep.
Lucille Roybal-Allard
and
Rhode Island
Secretary of State
Nellie Gorbea
, in addition to
Cortez Masto
,
Lujan Grisham
and Escobar.
Cardenas said he's determined to see Latinas included in the mix, but believes Biden's selection is not a prerequisite to motivate Hispanics to the polls this fall.
"Hispanics are going to be coming out in record numbers in November," he said. "Because the choice is Biden-Trump."
The Latino Victory Project
, a political action committee created to increase Hispanic political power, has also privately lobbied the Biden campaign on the need for a Latina to appear on the VP shortlist. But
Mayra Macias
, the PAC's executive director, said she understood the rationale behind the inclination toward selecting an
African American
woman.
"Black women have been critical to Democratic Party wins and a critical part of the vice president's coalition," Macias said. "We still have work to do on our end ... to solidifying Latino power."
She said that meant converting more eligible Latinos into registered voters and then turning them out at a higher rate - a task that would become easier, according to Macias, just by placing someone like
Cortez Masto
in the running mate conversation. Whereas the Latino turnout rate was 48 per cent in 2016, black turnout registered 12 points higher, at 60 per cent.
"Until we solidify that message that Latinas are a critical backbone of the Democratic Party, I think we'll continue to be seen as an afterthought," she said. "There's a lot of room to grow."
In 2016, African Americans and Hispanics each made up about 10 per cent of the total electorate, according to the
Pew Research Center
. But in 2020, Hispanics are expected to edge ahead of African Americans in total vote share, with more than 32 million eligible voters.
The expected rise in the percentage of the Latino vote is already reshaping the electoral map.
Arizona
is becoming a battleground state where some
Democrats
already speak of Biden as a slight favorite over President
Donald Trump
. And in
Texas
, Trump still holds an advantage, but has seen his average polling lead slide to just under 3 percentage points.
"What you saw coming out of 2018 is a remarkable increase in Latino turnout. Upwards of 100 per cent plus increases in heavy Latino districts, throughout the Southwest. We should plan, as we saw in early vote numbers, record turnout in places like
Florida
and
Arizona
," said
Cristobal Alex
, a senior adviser to the Biden campaign. "They will be difference makers in several battleground states."
While Biden's shoe-string campaign was outworked by
Bernie Sanders'
well-oiled operation for the Latino vote in earlier contests in
Nevada
and
California
, the former vice president improved his showing among the constituency in later primary states like
Florida
and
Arizona
once he was the front-runner.
Placing a Latina on the ticket would signal a slightly different electoral path for Biden that bets on the Southwest, whereas an
African American
running mate would demonstrate a more conventional play toward boosting black turnout in urban
Pennsylvania
,
Michigan
and
Wisconsin
, as well as
North Carolina
and even
Georgia
.
Given that a drop-off in black turnout was a determining factor in
Hillary Clinton's
2016 loss, Biden faces enormous pressure not to repeat a mistake of taking that vote for granted, regardless of his strong
African American
support during the primaries.
"After declining black turnout in 2016, you might not want to test fate on that. I sure don't want to test fate. I'll take either," said
Gary Segura
, the co-founder of the polling and research firm Latino Decisions.
Which is to say, most Hispanic activists indicated in interviews they would be more than happy if Biden ultimately settles on an
African American
woman, as long as a Latina is a serious part of the conversation.