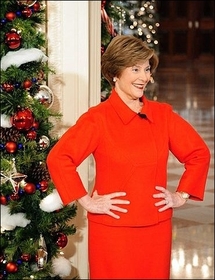 "A highly anticipated book that will offer an intimate account of Mrs Bush's life experiences, including eight years in the White House, the memoir will reveal the First Lady's recollections of both the personal and historic moments that have defined her life," it said.
Scribner did not reveal the terms of the book contract.
"I look forward to working with Scribner and the Simon and Schuster team as I tell the stories of the extraordinary events and people I've met in my life, particularly during my years in the White House," the First Lady said, quoted in the publisher's statement.
Scribner is an imprint of Simon and Schuster publishing house.
Her husband, George W. Bush, who leaves office on January 20 when Barack Obama will be sworn in as the next president, recently said he is considering writing his own book about the difficult decisions he faced during his tenure.
-------------------------------
Image of Laura Bush by Karen Bleier.