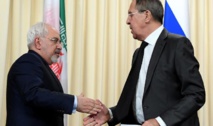 The three countries are "genuinely interested in keeping Syria a unitary state," Lavrov said, according to Russian news agency Interfax, following a meeting in Moscow with his counterparts, Jawad Zarif of Iran and und Mevlut Cavusoglu of Turkey.
The countries see themselves as guarantors in negotiations between the Syrian opposition and government. Talks have regularly taken place since 2017 in the Kazakh capital Astana, and are meant to complement the UN-led peace process.
In Moscow, Zarif reiterated that the different arenas of negotiation should not compete with each other. Meanwhile, Cavusoglu said that he was in favour of continuing negotiations in Astana.
Lavrov also criticized the US, French and British missile attacks on Syria in mid-April, saying that they had set back efforts for a political solution.
The joint attack targeted suspected chemical weapons infrastructure, in the wake of an alleged chemical attack by government forces on the formerly rebel-held town of Douma, outside Damascus.