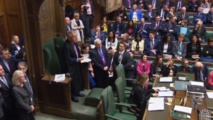 Stella Creasy of the opposition Labour Party said the group wanted to "stand with victims of sexual violence," amid concerns that the Swedish case could be sidelined as the Conservative government focuses on a US extradition request for Assange.
Creasy, who organized an open letter from the group, urged British ministers to be "champions of action to ensure Julian Assange faces Swedish authorities and is extradited there if they so request."
The rape allegation came after Assange's visit to Sweden in 2010. He departed Sweden for Britain, and in 2012, he fled to the Ecuadorian embassy in London after he lost a legal battle against extradition to Sweden amid fears he would be handed over to US authorities for Wikileaks' publication of top secret US diplomatic cables.
Assange, an Australian national, lived inside the embassy for seven years. But his relationship with his hosts became strained, and British police dragged the 47-year-old out of the building on Thursday after Quito revoked his asylum status.
The police initially charged Assange with breaching bail conditions linked to the Swedish extradition request.
The US Justice Department said later Thursday it had charged Assange for conspiring with former US military intelligence analyst Chelsea Manning to leak a trove of classified material in 2010.
Swedish prosecutors dropped their investigation of the rape allegation in 2017. Assange has always denied the allegation.