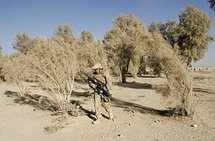 "We are concerned about committing additional US troops and taxpayer dollars in Afghanistan, especially when the US mission in unclear and when methods for measuring mission effectiveness are underdeveloped or nonexistent," they wrote in a letter.
The lawmakers, led by Representative Mike Honda of California, called for a "comprehensive rethinking" of the military mission, a "complete redesign" of the reconstruction strategy and a "courageous reconciliation strategy" in the war-torn nation.
The letter was also signed by Jim McGovern of Massachusetts, a leading advocate of setting an eventual timeline to withdraw troops, and Barbara Lee of California, who has proposed a bill to bar funding for a military surge.
The other two lawmakers who signed were Raul Grijalva of Arizona and Lynn Woolsey of California.
The lawmakers praised Obama for "taking the appropriate time" to assess the situation, amid pressure by some Republicans to decide quickly on dispatching more troops.
Obama, who is on a visit to Asia, has promised to make a decision "soon" on a new Afghanistan strategy as top advisers offer sometimes sharply differing views.
Obama is said to have been presented with a series of options on Afghanistan, three of which envisage reinforcements ranging from 20,000 to 40,000 troops and a fourth that has an undisclosed military element.
------------------------------------------------------------------------------------------------------------------------------
Image: US Marine of 2nd Battalion 2 Marines of 2nd Marine Expeditionary Brigade, in Garmsir town in Helmand Province in Afghanistan (AFP/Manpreet Romana).