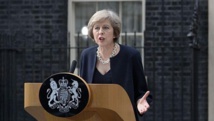 The lawmakers in parliament's elected main house, the Commons, are scheduled to vote late Wednesday on an amendment to the EU Withdrawal Bill that would keep Britain in the EU customs union.
May, who wants Britain to leave the customs union, is expected to win the vote, after she reportedly persuaded several Conservative rebels to accept a compromise amendment that commits the government to keeping parliament informed of its negotiations on a new "customs agreement."
But Paul Drechsler, president of the Confederation of British Industry, which represents some 190,000 businesses, urged May to keep Britain in the customs union.
"If we do not have a customs union there are sectors of manufacturing society in the UK which risk becoming extinct," Drechsler told BBC Radio 4's Today programme.
May had appealed to the 316 Conservative lawmakers in the 650-seat Commons to back the Brexit bill.
May also relies on support in key votes from 10 lawmakers from Northern Ireland's Democratic Unionist Party, since she lost her parliamentary majority in a snap election last year.
She promised pro-EU rebels on Tuesday that lawmakers would be consulted on what happens next if she is unable to agree a Brexit deal.
Labour, the main opposition, called May's concession "a significant climbdown."
Notepad