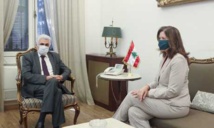 In a statement issued by the US embassy, Shea said the meeting was "positive."
"We turned the page on this unfortunate distraction so we can all focus on the real crisis at hand, which is the deteriorating economic situation in Lebanon," shea said.
Shea was referring to a ruling by Judge Mohamed Mazeh on Saturday that banned local and foreign media outlets in Lebanon from interviewing the US diplomat for a year.
The ruling came after Shea spoke to the Saudi-owned Al-Hadath news channel about Hezbollah's role in Lebanon. The judge accused the diplomat of interfering in the country's internal affairs, inciting sectarian strife and threatening social peace.
Shea had said in the interview that the Shiite group has "siphoned off billions of dollars that should have gone to government coffers so that the government can provide basic services to its people."
"The United States stands ready and will continue to help the Lebanese people as the government takes the necessary steps to address the underlying causes," she added in the statement.
Lebanon is experiencing its worst economic crisis since the 1975-1990 civil war. In March, the government said it would suspend payments of maturing Eurobonds in order to safeguard the foreign currency reserves needed to meet basic imports.