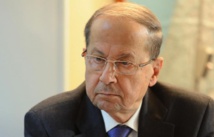 Aoun will meet with various parliamentary blocs to discuss the selection of the premier.
A government source told dpa Lebanon's ambassador to Germany, Mustapha Adib, is likely to be tasked to form the new government after he was nominated for the post by former prime minister Saad Hariri, head of the largest Sunni-Muslim parliamentary bloc.
According to Lebanon's confessional system, a president should be a Maronite Christian, a premier a Sunni-Muslim and a House speaker a Muslim Shiite.
The announcement comes more than three weeks after prime minister Hassan Diab resigned in the wake of a massive blast in the capital Beirut that killed more 180 and injured 6,000 others.
After Aoun names the new premier, the candidate will start efforts to form a new government.
The consultations are expected to end Monday at noon, few hours before French President Emmanuel Macron starts his two-day visit to Lebanon, the second since the August 4 port blast.
Macron will also be in Beirut for the centennial anniversary of the creation of Greater Lebanon, declared by colonial France in 1920 after World War I.
Lebanon gained independence from France in 1943.