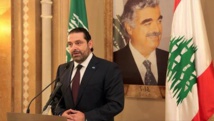 "We are living in circumstances similar to those, which prevailed before the assassination of the martyr Rafik Hariri," he said, referring to the killing of his father, who was a prime minister, in a car bombing in 2005.
Hariri mentioned a secret plot "to target [his] life," without elaborating.
Hariri, a Sunni Muslim and staunch ally of Saudi Arabia, lashed out at the Shiite Hezbollah movement and Iran, accusing them of fomenting unrest in the Arab region.
"Hezbollah is Iran's arm, not only in Lebanon, but in other Arab countries," he said in an address broadcast on the Saudi-owned television Al Arabiya.
Hariri made the announcement in Saudi Arabia, where he is currently on a visit, Lebanon's official National News Agency reported.
"I want to tell Iran and its followers that they are losers and the hands doing evil to the Arab countries will be cut off," he added.
Saudi Arabia and Iran are backing opposite sides in wars in Syria and Yemen.
Hariri accused Iran of trying to "hijack" Lebanon.
"I am declaring my resignation as head of the government. I am confident that the Lebanese people have a strong resolve and will be able to overcome guardianship from inside and outside," Hariri said.
His resignation comes less than a year after he took office.
The office of Lebanese President Michel Aoun, who is an ally of Hezbollah, said that Hariri had informed him of his decision in a phone call.
"President Aoun is waiting for the return of Hariri to Beirut to learn from him about circumstances surrounding his resignation," a presidential statement added.
It was not yet clear when Hariri would return from Saudi Arabia. He reportedly arrived there on Friday.
His resignation could unsettle Lebanon's fragile political system.
So far, there has been no comment from Hezbollah, which was a partner to Hariri's coalition government formed late last year.
Hezbollah is fighting alongside forces of Syrian President Bashar al-Assad, who is facing an armed rebellion. Hariri is a sharp critic of al-Assad.
Syria's six-year civil war has spilled over into neighbouring Lebanon and polarized political powers there.