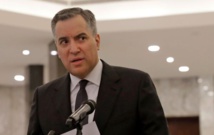 State-run National News Agency reported that Adib announced his resignation after meeting Lebanese President Michel Aoun at Baabda palace.
Adib was designated as premier by Aoun on August 31, replacing Hassan Diab.
The August 4 blast killed hundreds, left many more homeless and rocked a country that was already suffering from economic collapse. It has been blamed on official negligence, which allowed tons of explosive material to be stored at the port for years.