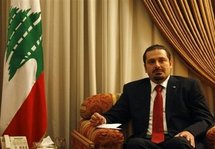 Hezbollah, which heads an alliance of parties supported by Syria and Iran, said in a statement that opposition leaders met late on Friday and agreed to the latest distribution of portfolios proposed by Hariri.
"Those who took part in the meeting agreed to join a national unity government based on the agreements reached during negotiations," the statement said. "We hope that this step will be beneficial for Lebanon and its people."
Hariri's spokesman Hani Hammoud told AFP that opposition member and outgoing telecommunications minister Gibran Bassil officially informed Hariri of the opposition's stand on Saturday.
"The two held a very positive meeting and we are optimistic that the government line-up will be announced soon," Hammoud said.
The new 30-member cabinet is set to include 15 ministers from Hariri's coalition and 10 from the opposition. The remaining five posts will be nominated by President Michel Sleiman.
Hariri was tasked with forming a government after his Western- and Saudi-backed coalition won a June 7 general election.
However since then he has struggled to bridge differences between his own bloc and the opposition.
Among the major points of contention were demands by Christian leader Michel Aoun, an ally of Hezbollah whose Free Patriotic Movement has more seats in parliament than any other Christian party.
Aoun had insisted on retaining the sensitive telecommunications ministry headed by Bassil, his son-in-law.
Hariri initially rejected that demand but finally agreed. It was unclear on Saturday, however, whether Bassil would be reappointed to the post.
Aoun's party was also expected to be given the energy, industry and tourism ministries, while Hezbollah would get two cabinet posts.
Majority MP Oqab Sakr told AFP that his camp had agreed to make concessions in order to break the deadlock and reach a compromise.
"This was necessary in light of the major threats facing the country including Israeli aggression, terrorist organisations in Lebanon seeking to take advantage of the political void and security concerns," Sakr said.
The standoff between the rival camps softened last month after improved relations between their regional backers Syria and Saudi Arabia.
Syria was the powerbroker in neighbouring Lebanon for nearly 30 years until the 2005 murder of Hariri's father Rafiq, a former prime minister who was close to the Saudi monarchy.
Western countries, as well as the United Nations, had voiced concerns over the deadlock in Lebanon, which they feared could affect the country's economy and lead to a security breakdown.
A political crisis erupted in 2006 when all Shiite cabinet ministers resigned. It climaxed on May 7, 2008 when more than 100 people were killed in sectarian fighting in the worst bloodshed since Lebanon's 1975-1990 civil war.
A Qatari-brokered deal led to the formation of a national unity government in which Hezbollah and its allies had veto power over key decisions.
But that cabinet has not met since the June election. It is an acting government only and cannot make administrative appointments or decisions.
--------------------------------------------------------------------------------------------------------------------------------
Image: AFP/Joseph Barrak.