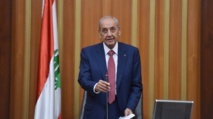 Berri's comments came one day after Israel said it had launched an operation to hinder and neutralize "cross-border attack tunnels" on the border between Lebanon and Israel, raising fears of a military escalation between the two countries.
Berri, a Hezbollah ally, told a meeting with lawmakers that Israeli Prime Minister Benjamin Netnayhu ordered the operation to distract attention from his domestic troubles, which include three corruption investigations against him.
Berri's comments were made as representatives from the Lebanese and Israeli armies met with UN peacekeepers on Wednesday in the southern border town of Naqoura to discuss Israel's border operation.
The Naqoura meeting was chaired by Major General Stefano Del Col, the head of the UN Interim Forces in Southern Lebanon (UNIFIL) that monitors the border situation between the two countries.
"I emphasize the critical role of our liaison and coordination mechanisms in mitigating tensions through continuous communication," he said in a UNIFIL statement.
Major General Del Col called on Lebanon and Israel to "avoid misunderstandings" and ensure that security and stability along the border blue line is maintained.
It was also agreed at Wednesday's meeting that UNIFIL would send a technical team to Israel on December 6 to verify the Hezbollah tunnel allegations, according to the statement.
"All sides should be aware of the potential for a relatively minor incident to rapidly escalate into something more serious with unintended consequences," the statement warned.
Earlier Wednesday, a senior Israeli military officer told reporters that Hezbollah had planned to send militants to cut off the northern city of Metula from the rest of Israel.
The official was speaking at a briefing in northern Israel near an uncovered tunnel allegedly built by Hezbollah.
Israeli news outlet Maariv reported that the Israeli army believes Hezbollah planned to temporarily occupy the city and to carry out a large-scale terrorist attack with the aim of killing both civilians and soldiers.
So far, there has been no comment from Hezbollah.
Lebanese-Israeli meetings with UNIFIL participation have been held regularly since the end of a 33-day war in 2006 between Israel and Lebanon.
UNIFIL's estimated 10,500 peacekeepers monitor the ceasefire on the Lebanese-Israeli border.
Hezbollah has launched attacks from Lebanon against Israel in the past, often with the support of Iran.
The United States classifies Hezbollah a terrorist organization, while the European Union uses the terrorist label solely for the group's military wing.