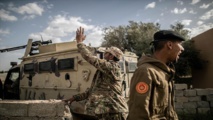 Mohamed Gnounou, a military spokesman for the Government of National Accord (GNA), said in a brief statement that they took control of the coastal cities of Sabratha and Surman.
He added that the forces seized military equipment, including 10 tanks, and were chasing "fleeing terrorist militias."
In April last year, Haftar ordered his forces to seize Tripoli from the rival GNA. Haftar already controls large areas in eastern and southern Libya.
Libya has been in turmoil since the 2011 overthrow of dictator Moamer Gaddafi and has become a battleground for rival proxy forces.
The oil-rich country has two competing administrations: the GNA in Tripoli and the Haftar-allied government based in the eastern city of Tobruk.