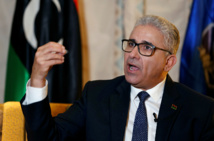 It added that the investigation will look into permissions and protections granted to protesters, statements issued by the ministry on the protests in Tripoli and other cities during the past week and any violations committed against the demonstrators.
Tripoli and other cities have recently seen demonstrations demanding political and economic reforms. Protesters at the Martyrs' Square have been shot at, leaving some wounded.
The ministry's undersecretary, Khalid Mazen, will assume Bashagha's duties, according to the decree.
Bashagha said in a statement that he was ready for the investigation, blaming armed groups that are not affiliated with his ministry for the violations committed against protesters.
Oil-wealthy Libya has been in turmoil since a 2011 revolt toppled long-time dictator Moamer Gaddafi. It has become a battleground for rival proxy forces.