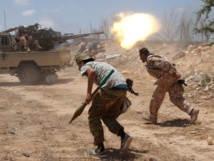 On Tuesday, the LNA said its forces had started a massive operation to fight extremists in the south of Libya.
Libya descended into chaos following the 2011 armed revolt that toppled long-time dictator Moamer Gaddafi.
Radical groups, including al-Qaeda and Islamic State, have taken advantage of the anarchy to establish a foothold in the oil-rich country.
Libya is split between two rival governments: one in the capital Tripoli and the other in the eastern city of Tobruk.
The LNA controls eastern Libya and its commander, General Khalifa Haftar, is allied with the eastern-based government and its parliament.