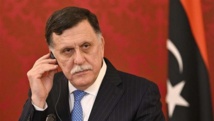 The outcome of the talks, which ended on Sunday, is meant to "facilitate the safe return of civilians to their areas," the UN statement said.
The draft will be submitted to Libya's UN-backed Government of National Accord (GNA) and to rebel force leader General Khalifa Haftar, before UN-brokered military talks resume in March.
Meanwhile, political talks are scheduled to start under UN auspices on Wednesday in Geneva.
However, GNA Foreign Minister Mohamed Taha Siala said on Monday that the schedule might not hold, as UN mediator Ghassan Salame had not yet issued formal invitations.
Siala and government chief Fayez Serraj were in Geneva to attend the UN Human Rights Council.
In a speech to the top UN rights body, Serraj called Haftar a "war criminal," while also stressing that his government "has always shown its readiness to move forward on the path to peace and stability."
On Saturday, an advisory body to the government raised conditions for participating in the political talks.
The High State Council in Tripoli demanded progress in the military talks, a list of the delegation members from the other side, as well as a clear mechanism for dialogue.
At Berlin talks in January, international leaders agreed on a Libyan peace process with military, political and economic tracks.
Libya has been in turmoil since the 2011 overthrow of dictator Moamer Gaddafi and has become a battleground for rival proxy forces, which has drawn in foreign powers.
Notepad