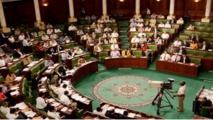 Maitig, who serves as deputy premier in the UN-backed, Tripoli-based government that Haftar has been seeking to unseat militarily since early April, spoke to foreign journalists in Rome on Tuesday.
"Now we are getting into the 15th day [of war], there is a lot of defence in Tripoli and the position of [our] Government of National Accord is much much much better, we can get him back easily," he said.
At least 174 people have died and more than 750 people have been injured since the fighting around Tripoli broke out this month, the World Health Organization (WHO) said in Geneva.
Civilians account for 5 per cent of the casualties.
In a sign of an embittering conflict, Maitig said his government was "capable and determined" to resist, and ruled out talking to Haftar in peace negotiations, once fighting stops.
Fierce fighting erupted around 30 kilometres south of Tripoli on Tuesday, as both sides are trying to take control of al-Zahraa bridge, spokesman of the al-Swani municipality, Nizar Mohammed, told dpa.
The bridge connects the southern al-Zahraa and al-Swani areas with the airport road, which leads to the capital.
Oil- and gas-rich Libya has been overrun by militia violence and political divisions since the NATO-backed ouster in 2011 of its long-time ruler Moamer Gaddafi.
Haftar, the commander of the self-styled Libyan National Army based in eastern Libya, has portrayed his offensive against Tripoli as a "war on terrorism," and shrugged off calls for a ceasefire.
Spokesman of the "Volcano of Rage" operation affiliated with Prime Minister Fayez Serraj, Mustafa al-Majai, said Haftar's forces were evacuating the area of Qasr Ben Ghashir, south of Tripoli.
He expected that the LNA will retreat to the south-eastern town of Tarhouna.
Haftar, who has been expanding his forces' foothold in the country since 2014, is backed by Egypt, the United Arab Emirates and Saudi Arabia. Analysts say he also more or less has covert support from Russia and France.
The Serraj administration, on the other hand, has allies in Qatar and Turkey.