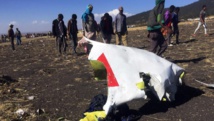 The Tuesday announcements dealt a further blow to Boeing, which was already reeling after China, Australia and numerous other countries around the world grounded 737 MAX 8 models.
Aviation authorities around the world have taken precautionary measures after a Nairobi-bound Ethiopian Airlines plane went down on Sunday shortly after take-off from Addis Ababa, killing all on board.
The model of the aircraft - a Boeing 737 MAX 8 - is the same as that of a Lion Air plane that crashed in Indonesia in October, killing 189 people.
Germany's Transport Ministry said the country's airspace would be closed off to Boeing 737 MAX 8 planes due to safety concerns. A spokesman said the cause of the crash had not yet been determined.
"Until all doubts are resolved, I have arranged that German airspace be banned for the Boeing 737 MAX as of immediately," Transport Minister Andreas Scheuer told German broadcaster ntv.
Britain's Civil Aviation Authority said a ban had been imposed on all Boeing 737 MAX aircraft from "arriving, departing or overflying UK airspace" and that the ban "will be in place until further notice."
The Civil Aviation Authority of Malaysia referred to the "two fatal accidents involving the Boeing 737 MAX 8 in less than five months" as grounds for its decision regarding the suspension.
France has likewise banned Boeing 737 MAX aeroplanes from its airspace. Austria, Italy and Belgium also followed suit.
India, which had initially allowed the aircraft to continue operating, updated its policy late Tuesday, announcing that it had decided to ground all Boeing 737 MAX planes immediately.
Major European travel agency Tui said it was halting flights with the Boeing 737 MAX 8 model across all of the group's airlines.
The company said it was following the directive of British aviation authorities.
National flag carrier Turkish Airlines said that it had suspended its operations with 12 737 MAX type aircraft and confirmed that three of its flights - two to Britain and one to Mauritania - were recalled.
Tui said on Twitter that it would "allow for more time to discuss the matter with the respective authorities and the manufacturer" and affected customers would be further advised from Wednesday.
Meanwhile, US President Donald Trump issued comments on developments in the airline industry, waxing nostalgic for a previous generation of aviation technology.
"Airplanes are becoming far too complex to fly," Trump wrote in a two-part comment on Twitter. "Pilots are no longer needed, but rather computer scientists from MIT."
"Split second decisions are needed, and the complexity creates danger. All of this for great cost yet very little gain. I don't know about you, but I don't want Albert Einstein to be my pilot."
"I want great flying professionals that are allowed to easily and quickly take control of a plane!" Trump said.
Earlier on Tuesday, US experts arrived in Ethiopia to investigate the accident site.
Officials from the National Transportation Safety Board and Federal Aviation Administration (FAA) were on the ground to help in investigations and efforts to identify the remains of victims.
However, the FAA has decided not to ground the planes in the United States, and Boeing has said in statements that it is investigating but the jets are safe to fly.
Boeing will continue to engage with countries that have banned its aircraft "to ensure they have the information needed to have confidence in operating their fleets," it said in a statement.
The markets reacted with Boeing stock declining about 7 per cent during trading on Tuesday, after dropping about 5 per cent the day before. The stock is trading at its lowest level in about six weeks.
Several US senators, including Mitt Romney and Elizabeth Warren, have called on the FAA to ground the plane.
Warren, a Democrat and presidential candidate, says the FAA must ground the plane immediately because "serious questions have been raised about whether these planes were pressed into service without additional pilot training in order to save money."
The Ethiopian Airlines plane's black box was found Monday, slightly damaged, according to an official.
Ethiopian Airlines chief executive Tewolde GebreMariam told US broadcaster CNN's Richard Quest on Tuesday that the pilots said they were having "flight control problems" before the crash.

Quest said that suggests the aircraft was not responding to pilots' input and they were losing control.

GebreMariam said the flight data recorders would be sent overseas, rather than being read in Ethiopia, which does not have the technical capability to do so, according to CNN.
At the huge crash site, which was littered with debris and victims' personal belongings, investigations continue, while the remains of all onboard have yet to be identified.
"It will take five days to clear everything regarding the identification," Asrat Begashaw, Ethiopian Airlines chief public relations officer, told dpa.