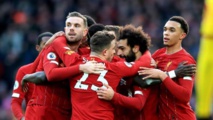 The head of the European football organizing body told Slovenian sports daily Ekipa24 on Tuesday that in view of the coronavirus crisis "it will become necessary to announce the results in some way ... and determine the champion."
He added: "I do not see a scenario that it would not be Liverpool.
"I understand that fans will be disappointed if it happens in an empty stadium or by decision, but I believe they will win the title in one way or another."
Liverpool are two victories away from clinching their first league title in 30 years, when they won the old first division in 1989-90 before the 1992 launch of the Premier League.
The Premier League was suspended on March 13 with Liverpool on 82 points from 29 games, 25 points ahead of defending champions Manchester City, who have a game in hand.
The league is provisionally suspended until April 30, and said last week it would only return with "the full support of government and when medical guidance allows."
Ceferin said if the league continues Liverpool "will will almost certainly win it." The Slovenian official added: "In theory, it could go differently, but is effectively done."