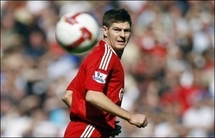 The fight took place overnight in Southport, near Liverpool in northwest England, hours after English Premier League leaders Liverpool won 5-1 away to Newcastle United on Sunday, with Gerrard scoring wo goals.
"Six men were arrested on suspicion of section 20 assault on Lord Street," said a spokesman for Merseyside Police, without officially confirming England midfielder Gerrard's identity.
Gerrard was arrested at around 2:30 am local time (0230GMT) after a disturbance at Southport's Lounge Inn. By the end of the afternoon he was still in custody, as police continued questioning the six detainees.
A 34-year-old local man, whom sources later said was a DJ at the Lounge Inn, a restaurant which doubles up as a music venue, was taken to hospital with injuries to his face.
But these were not believed to be life threatening, the spokesman added.
The six men included a 28-year-old man from Formby, north of Liverpool, as well as other men aged 33, 31, 29, 19 and 18. Gerrard is 28.
Gerrard's wife, and the mother of his two daughters, Alex Curran left a coffee shop near the police station where he was being questioned shortly after 2:30 pm (1430GMT) Monday.
Curran, a model and fashion columnist, refused to answer questions from reporters before driving off in her car.
Meanwhile the sister of the Lounge Inn co-owner, Dario Curcillo, said Gerrard had been there to celebrate his team's win over Newcastle.
"As far as I know he comes here regularly and it was just a normal night at the bar," she said. "I don't know anything about what happened last night."
She added her brother was unavailable for comment.
A spokesman for Liverpool Football Club declined to confirm or deny that Gerrard was involved.
Southport, a prosperous seaside town, is known as somewhere where footballers from nearby Premier League clubs such as Liverpool go to socialise.
Gerrard, who has played 70 times for England since making his international debut in 2000, is not renowned for off-field indiscretions.
However, in 2001, he was spotted out drinking 11 hours before he was due to meet up with the rest of the England squad and had to apologise to then national manager Sven-Goran Eriksson.
Liverpool head into the New Year with a three-point lead over Chelsea at the top of the Premier League table.
Gerrard, speaking after the Newcastle match, said: "This is the best team I have played with.
"If we want to stay at the top and be involved in this title race we have got to deal with the pressure."
Liverpool won the last of their record 18 English titles in 1990 and keeping star player Gerrard fit and available is widely considered essential if they are to win the Premier League this season.
In April, Gerrard's father revealed how a Merseyside "underworld" figure had threatened to shoot his son.
Born in the Liverpool suburb of Huyton, Gerrard has only ever played professional club football for Liverpool, for whom he made his debut in 1998.
Three years ago he inspired the team to come from 3-0 down at half-time to beat Italian side AC Milan in the Champions League final in Istanbul, as Liverpool reclaimed European club football's most prestigious trophy.
Last year Gerrard signed a contract keeping him at Anfield until 2011 and this October saw him score his 100th goal for Liverpool.