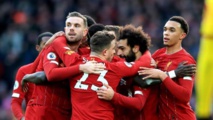 In a clear message of support following the death of George Floyd in Minneapolis, Liverpool's players including Andy Robertson and Trent Alexander-Arnold tweeted a photo of them in a wide circle on Anfield with the statement: "Unity is strength. #BlackLivesMatter."
Floyd was killed in police custody in the United States, sparking protests across the country.
Liverpool striker Rhian Brewster, on loan at Swansea, said the incident was an example of the things non-white people have had to deal with their entire lives.
"Unfortunately for us black/brown people etc, this is a real life & everyday occurrence in so many different ways," he said Sunday on Twitter.
"For years & generations we've been screaming out for change and to be heard yet the pain continues..."
Brewster said the matter was more than about Floyd.⠀
"We've all been shown films like Roots, we've all seen films like Boyz in the Hood where this reality is covered and showcased," he said.
"Yet we are still living these movies in real life. In 2020, today.
"This goes beyond just #JusticeForGeorgeFloyd, we need justice for us as Human beings. We don't want special privilege. A level playing field is all we have been crying for, forever. Hear us. #BlackLivesMatter."
Manchester United striker Marcus Rashford also took to Twitter.
"I know you guys haven't heard from me in a few days," he said. "I've been trying to process what is going on in the world.
"At a time I've been asking people to come together, work together and be united, we appear to be more divided than ever. People are hurting and people need answers."