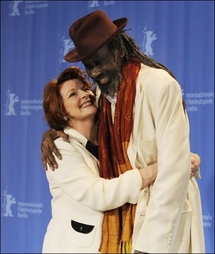 "London River" by Franco-Algerian director Rachid Bouchareb tells the story of a British mother played by Brenda Blethyn and Ousmane, an African Muslim living in France (Malian actor Sotigui Kouyate), who arrive in the British capital in the wake of the "7/7" attacks.
They learn their children are missing after the four bombs exploded in London public transport system, killing more than 50 people and injuring more than 700 more, and are shocked to hear that the two were a couple.
"Hate is something mankind has lived with for a long time, perhaps forever," Bouchareb, who made the groundbreaking 2006 drama "Days of Glory" (Indigenes) about North Africa soldiers fighting for France in World War II, said of the attacks.
"It is perhaps naive to think that it will disappear. But the world must continue to turn and you hold on to hope which is very, very thin."
Blethyn, who learned some French for the role, said her character's initial shock to discover her daughter was living with a black Muslim man in north London was indicative of the uneasy race relations in Britain.
"Even though my character is English, she felt she was (in) an alien land," Blethyn said.
"It was just scary, a simple woman looking for her daughter, somewhat prejudiced and going through that and having to come ouut the other side."
Also premiering Tuesday was "Cheri" by British director Stephen Frears ("The Queen") starring Michelle Pfeiffer as a retired courtesan who begins an affair with the callow son of a rival.
The picture, based on the 1920 novel by French writer Colette, reunites Frears and Pfeiffer two decades after they made another French literary adaption, the erotic drama "Dangerous Liaisons".
And Chinese film-maker Chen Kaige, best-known for his 1993 Oscar-nominated drama "Farewell My Concubine", was to present "Forever Entralled", an epic biography of the legendary opera star Mei Lanfang.
Mei refused to perform during the Japanese occupation of China from 1937 to 1945 and "Forever Enthralled", a big-budget production with stunning set design and costumes.
But at a press preview late Monday, few in a crowd of mainly Western critics stayed to the end of the 2 1/2-hour picture dominated by elaborate stagings of Mei's performances.
A critics' poll in trade magazine Screen International had "About Elly", a look at relations between the sexes in contemporary Iran, and "The Messenger" starring Woody Harrelson as a US soldier returning from Iraq who has to notify the families of fallen troops, leading in the competition by a small margin.
But the entries to date have failed to generate much excitement.
"Though several titles press right-on buttons such as 'globalisation' or various socio-political issues almost none have translated these into emotionally engaging, cinematic fare," industry bible Variety said.
The disappoinments stood out including "Mammoth", the first English-language picture by Swedish arthouse hero Lukas Moodysson, starring Gael Garcia Bernal and Michelle Williams.
Audiences also walked in droves out of "Rage", a flat, minimalist send-up of the fashion industry with an all-star cast including Jude Law in drag as a pseudo-Russian supermodel and Judi Dench as a joint-smoking fashionista.
The Hollywood Reporter said "Rage" was mostly likely to describe the reaction of audiences bored silly by the picture, which was screening out of competition.
The Golden Bear prize will be awarded to one of 18 contenders from around the world by this year's jury president, Scottish actress Tilda Swinton, at a gala ceremony Saturday night.
The festival, which ranks second to Cannes among Europe's top film festivals, wraps up the next day.
--------------------------------------
Image of French director Rachid Bouchareb giving a press conference for "London River on February 10, 2009, by Barbara Sax.