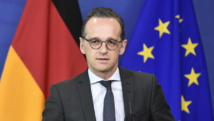 German President Frank-Walter Steinmeier opened the conference on Friday with a warning that world politics was heading for "darker times."
"We are witnessing today an increasingly destructive dynamic in world politics. Year by year, we are distancing ourselves from the goal of international cooperation to create a more peaceful world," Steinmeier said.
He criticized the actions of world powers Russia and China, adding: "Our closest ally, the United States, under the current administration itself rejects the idea of an international community."
With the European Union seeing friction between its member states across several issues, Steinmeier said that Germany's greatest responsibility was "to keep together a united Europe."
The chairman of the conference, Wolfgang Ischinger, struck a similarly pessimistic note.
Speaking ahead of the conference he said: "We have more crises, more serious crises, more horrific events than one can actually imagine."
He seemed to foreshadow Maas' comments when he told dpa that Germany should be taking on more responsibility in tackling global challenges.
"Given the incredible speed of the changes in world politics, [Germany's foreign policy] is indeed moving too slowly," he said. Germany, he said, had shown "too little decisiveness."
Ischinger said he was "deeply troubled" about the "unforgivable failure" of the international community in war-torn Syria, and also lamented that a Libya peace plan hammered out recently in Berlin had fallen flat.
Defence ministers from the coalition against Islamic State met earlier on Friday in Munich to discuss the latest developments, principally military operations in Iraq.
NATO Secretary General Jens Stoltenberg said the military alliance could take over training Kurdish security forces in Iraq from the US-led coalition fighting Islamic State in the country.
NATO was not present in the northern parts of Iraq controlled by the Kurds, but NATO members were involved in their training process, Stoltenberg said.
"We will now decide exactly how to scale up the NATO presence and maybe we will also take over some of the activities, some of the training activities that NATO allies provide within the coalition today," Stoltenberg said.
Leading US Democrat Nancy Pelosi was also in Munich, giving US critics of President Donald Trump a voice at the conference at a time of intense political division in Washington.
On Friday, Pelosi issued a warning against dependency on China in building the 5G mobile communications network, cautioning that if Western countries relied on China's Huawei for their technology, they would be boosting a "digital autocracy."
Her remarks echoed warnings from US President Donald Trump, despite the top Democrat being a staunch Trump opponent.
Pelosi called for mobile communications infrastructure to be internationalized, urging Europe to cooperate with the US for their mutual benefit.
Around 3,900 police officers are set to provide security for the event, which is expected to draw protesters.