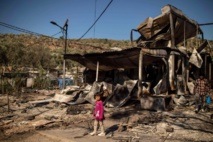 Macron said a "first coordinated response" with Germany should be finalized within hours, in conjunction with Greek authorities.
The French leader said he and German Chancellor Angela Merkel wanted to "make a proposal... and try to involve a maximum of European countries to accept refugees, and especially minors, who are currently in these camps."
The "terrible images, a terrible reality" meant that "we must show solidarity with Greece and also live up to European values," Macron said at a press conference on the Mediterranean island of Corsica.