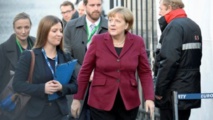 Welcoming the German premier to the Mediterranean city's Pharo Palace, Macron said they would discuss "the great challenge of the day, the issues around migration," as well Brexit and the eurozone, which Macron wants to see massively reformed.
Macron is relying on Merkel's support for his ambitious proposals for change to the eurozone, which have met with resistance from other member states as well as some German politicians.
Merkel said Friday she was "very optimistic that we can continue to lead the way forward... For an autonomous Europe, for a Europe that can solve its own problems independently," she said.
In June, the two agreed on proposals to create a eurozone budget from 2021 within the EU's existing financial framework, as well as uniform banking regulations and a framework to bail out failed lenders.
Migration and Brexit are expected to be the main topics at the informal summit to be convened in Salzburg on September 20 by Austria, which currently holds the EU's rotating presidency.
On Friday, Macron and Merkel are also expected to discuss the candidacy of German EU lawmaker Manfred Weber to become president of the European Commission in 2019. Weber is a member of Merkel's conservative bloc.
Though Merkel is in favour of the bid, the French president is unlikely to endorse a candidate from the centre-right European People's Party (EPP), which also includes Hungarian Prime Minister Viktor Orban's Fidesz party.
Speaking after a meeting with Benelux leaders on Thursday, Macron suggested that the EPP would have to make a choice between Merkel's positions and the eurosceptic, anti-migration stance of Orban.
Pro-EU liberal Macron and Orban's Italian ally, far-right Interior Minister Matteo Salvini, have sought to portray next year's elections as a battle between their rival visions.
Macron's own party has been seeking to form an alliance with like-minded pro-European centrists ahead of the polls, although the initiative has not gotten off the ground yet.
Merkel's spokesman Steffen Seibert said ahead of the chancellor's departure on Friday that the two leaders would also talk about their foreign policy stance on Syria, Ukraine and the western Balkans.
Notepad