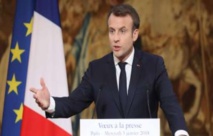 The move comes a week after high-profile ecologist Nicolas Hulot resigned from the position live on air, saying the government was not doing enough on environmental issues.
The appointment of de Rugy, 44, who has 10 years as a Green lawmaker under his belt and an authoritative presence in the assembly, seems aimed at showing that the centrist president is still taking environmental issues seriously.
But it was overshadowed by another high-profile resignation, that of sports minister Laura Flessel earlier on Tuesday.
Flessel, who along with Hulot repeatedly polled as the most popular member of Macron's government, said her surprise resignation was for personal reasons.
The Olympic fencing gold medallist promised to remain "a loyal team member with the president and prime minister."
But, she said in a statement, she wanted to "get back to previous commitments, rightly focused on the human, on solidarity and international cooperation."
The Elysee said that Flessel would be replaced by another sporting figure, former world champion in the 200-metre swimming backstroke Roxana Maracineanu, 43.
With Macron's popularity at a low in opinion polls and disappointing economic figures, the centrist president appears weakened as political action resumes after the summer holidays.
The summer was already a painful one for the government, which was forced to postpone a parliamentary debate on planned constitutional reforms amid a scandal over the alleged assault on May Day protesters by Macron's former security aide Alexandre Benalla.
Macron's satisfaction rating hit a new low of 31 per cent in a survey by polling firm Ifop published Tuesday by magazine Paris Match.
Another recent poll, by Kantar TNS for Figaro Magazine, put confidence in Macron at 33 per cent, up 1 per cent from July when it hit a low of 32 per cent.
Macron's predecessors, socialist Francois Hollande and conservative Nicolas Sarkozy, also saw their initial popularity give way to widespread dissatisfaction in polling figures over a similar period.
A loss of popularity is not an immediate political threat to Macron: the constitution guarantees him a five-year term and he has a large majority in the National Assembly.
But he is likely to view it with concern ahead of European Parliament elections next year that he is depicting as a fight for liberal pro-EU values against the eurosceptic far right.
Meanwhile, economic figures are also bringing disappointing news for the liberalizing president.
Late last month, Prime Minister Edouard Philippe confirmed that the government would base its 2019 budget on an estimate of only 1.7-per-cent economic growth.
It had previously hoped for 1.9-per-cent growth in gross domestic product, in line with earlier figures from the Banque de France.