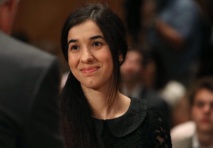 Nadia Murad
Macron had invited Murad, herself a victim of the group's policy of sexually enslaving women from the persecuted religious minority, to Paris after she won the 2018 Nobel Peace Prize for her advocacy against sexual violence in war.
The Elysee said the women, who would come to France by the end of next year, were victims of Islamic State who had been freed but were currently stuck in camps in Iraqi Kurdistan.
Macron will also be a patron of a fund launched by Murad to rebuild her native Sinjar area, overrun in 2014 by Islamic State which massacred men and boys and took women and girls as slaves.
Thousands of Yezidis remain missing, including women and children still held captive by the extremists even though they have now lost most of the territory they once held in Iraq and Syria.
A number of mass graves have also been discovered since Kurdish and Iraqi forces expelled the jihadists from the Sinjar area.
In an interview with dpa earlier this month, Murad called on Germany, where she is living as a refugee, to accept more Yezidis from Iraq.