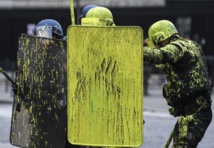 The Yellow Vest movement protested again this weekend, even though the fuel tax rises that sparked their protests have been cancelled.
The protests have led to heavy damage in Paris and mass arrests, drawing international attention.
French Foreign Minister Jean-Yves Le Drian on Sunday sharply criticized the US president for getting involved in France's internal matters after Trump took to Twitter to comment on the Yellow Vest protests.
"We don't take part in American debates, leave our nation be!" Le Drian said to Trump on Sunday in a television interview.
Trump on Saturday tweeted about the protests in Paris: "The Paris Agreement isn't working out so well for Paris. Protests and riots all over France," and questioned whether people should be forced to "pay large sums of money ... in order to maybe protect the environment."
He concluded the tweet by saying that there were chants of "We Want Trump!" on the streets of France.
Referring to the 2015 climate accord, Trump later continued his tweets: "Maybe it's time to end the ridiculous and extremely expensive Paris Agreement and return money back to the people in the form of lower taxes?"
France's Interior Ministry reported that a total of 125,000 people protested across France on Saturday, with around 10,000 in Paris alone.
Security forces arrested some 2,000 people across the country during the demonstrations, French media reported on Sunday, citing the Interior Ministry. More than 1,700 were held in detention.
Under French law, people can usually be held for up to 24 hours if they are suspected of committing an offence.
An official from the Paris town hall said Sunday that the damage caused in France's capital by Yellow Vest protesters was even worse than the previous week.
"The spectacle that Paris delivered is catastrophic," said Emmanuel Gregoire, who works for Parisian mayor Anne Hidalgo, on French broadcaster France Inter.
"The violence was less radical, but the damage is probably more serious than a week ago," he added.
Police deployed tear gas and water cannons against the protesters. In Paris, rioters set fire to cars and tried to erect barricades. Local media put the number of injured at 264, including 39 members of the security forces.
Macron's government was able to claim a partial victory, as a major police mobilization helped avoid the running battles that marred protests in Paris last week.
But Gregoire said more parts of the city were affected by the violence than before, as the protest was more spread out across the metropolis.
He said Paris could not continue to face this type of danger once a week, and that the government and Macron needed to deliver answers now in order to stop the crisis.