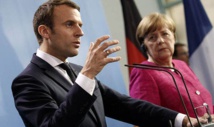 These include coordination about the coronavirus pandemic, the bloc's budget, Brexit, climate and trade, it said.
The two leaders are also to discuss EU relations with China and Africa, and current foreign policy issues such as Lebanon, Belarus and the situation in the Eastern Mediterranean, where France has adopted a hard line against Turkey.
Germany currently holds the European Union's rotating presidency.
"This visit is exceptional as it is the first time that [Merkel] has been invited to the Fort de Bregancon by a French president," the Elysee said.
The seaside fortress, on the Cote d'Azur between Toulon and Saint Tropez, is not a new scene for diplomatic encounters.
Macron met Russian President Vladimir Putin there last summer ahead of the summit of the G7 group of major industrial powers, a group from which Russia was excluded after invading Ukraine's Crimea region in 2014.
In 1985, French president Francois Mitterand and German chancellor Helmut Kohl met there.