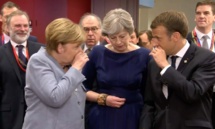 The two close allies plan to discuss key European issues such as migration, eurozone reform and Brexit in the Mediterranean city's Pharo Palace, according to Elysee sources. They are then scheduled to have a private working dinner.
Migration and Brexit are expected to be the main topics later this month at the informal summit convened in Salzburg by Austria, which currently holds the EU's rotating presidency.
Macron is relying on Merkel's support for his ambitious proposals to reform the eurozone, which have met resistance from other member states as well as some German politicians.
In June, the two agreed on proposals to create a eurozone budget from 2021 within the EU's existing financial framework, as well as uniform banking regulations and a framework to bail out failed lenders.
The leaders are also expected to discuss the candidacy of German EU lawmaker Manfred Weber to become president of the European Commission in 2019. Weber is a member of Merkel's conservative bloc.
Though Merkel is in favour of the bid, the French president is unlikely to endorse a candidate from the centre-right European People's Party (EPP), which also includes Hungarian Prime Minister Viktor Orban's Fidesz party.