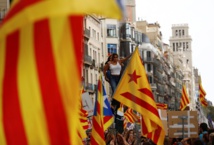 Madrid

(dpa)

-
The expiration of what was supposed to be the last ultimatum from Madrid to Barcelona has come and gone for Catalan President Carles Puigdemont and Spanish Prime Minister Mariano Rajoy. Do not expect this to end the dangerous game of brinkmanship in which they are locked.
Rather than setting aside secessionist plans, Puigdemont has threatened to follow up on them if his region is punished with a suspension of its autonomy. But Rajoy's government has said it will just do that, via Article 155 of the constitution.
Both moves are unprecedented and would escalate what is already the most serious political crisis Spain has experienced since a failed coup d'etat in 1981. Given the seriousness of the situation, prudence from both sides seems advisable.
According to Joan Coscubiela, spokesman of the leftist Si Que Es Pot coalition in the Catalan parliament, neither Rajoy nor Puigdemont would like to go through with their actions, and are playing a "cat and mouse" game.
"The [unilateral declaration of independence] can be proclaimed, but not implemented. On 155, we know how to get into it, but not how to get out of it. Let's stop playing at 'the worse, the better,'" the politician said on Twitter.
Activating Article 155 of the constitution would bring rebellious Catalonia under Madrid's direct control. But there is no precedent for such a decision, which would break a taboo in heavily decentralized modern Spain.
On Wednesday, the Spanish premier told parliament he would "undoubtedly" prefer not to trigger Article 155, amid warnings from the National Basque Party, which governs the northern Basque region, that it would stop supporting Rajoy's minority government if he did.
To limit the damage, the premier is seeking support from opposition parties, and his main opponents, the socialist PSOE, who said Thursday they would only approve a "very limited" application of 155, for "the shortest possible" time period.
Madrid's caution effectively gives Puigdemont another 11th-hour escape clause: both Rajoy and the PSOE have signalled that, if he were to spontaneously call for snap Catalan regional elections, that would halt the 155 procedure in its tracks.
Puigdemont hails from the PDeCAT, a pro-business, largely middle class centrist party that joined the secessionist cause only a few years ago. But that does not automatically mean that appeals to moderation will find receptive ears.
By backing down, the Catalan president would lose the support of hard core separatists, and possibly end his career. Polls suggest that his leftist deputy, Oriol Junqueras, would handily beat him in a new regional ballot.
Might it be in Puigdemont's interest to prolong the stand-off with Madrid? A secret "road map" to independence reportedly discovered in the papers of an arrested Catalan official suggests that this might be part of Catalan government plans.
Earlier this month, Spanish media said the document sets out the objective of "creating more conflict" as well as "political and economic instability" in the hope of whipping up popular Catalan support for independence, which is presently far from overwhelming.
A compromise solution might be for Puigdemont to allow the Catalan parliament to declare independence, appeasing radicals in his coalition, and follow that up with a call for new elections, which might please moderates.
It remains to be keen if Rajoy will tolerate more ambiguity from the Catalan president. And if any of the upcoming pro-Catalan independence protests turn nasty, it will be harder than ever to avoid a final reckoning between Madrid and Barcelona.