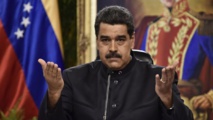 A crowd of Caracas residents had meanwhile gathered near La Carlota air base in support of Guaido, who had said he was there and called on supporters to head there.
Soldiers wearing blue bands joined the demonstrators. The bands signalled "a new beginning," one soldier told Colombian news channel NTN24.
"People don't want this any more," a masked demonstrator told broadcaster VPI. "We'll stay on the streets until Maduro goes."
Smoke was seen and shots were heard, according to Colombian broadcaster Caracol. Maduro's security forces used tear gas to dissipate the protesters, while some of the pro-Guaido soldiers also fired tear gas, daily El Nacional reported.
A military commander at La Carlota base told the pro-government broadcaster Telesur that reports about "deserters" taking it over were false. Troops loyal to Maduro had control of the base after some soldiers had been "cheated," he said.
Defence Minister Vladimir Padrino tweeted that the army "remains firm in defence of the national constitution and its legitimate authorities."
"All the military units deployed in the eight regions of integral defence report normality in their military barracks and bases," he added.
Maduro supporters were also reported to be demonstrating in Caracas.
The British embassy in the capital said on Twitter that it was closed on Tuesday "due to civil unrest."
Earlier on Tuesday, Guaido had announced that the "final phase" of a plan to oust the president had begun.
Guaido made the announcement alongside opposition leader Leopoldo Lopez and members of the armed forces in a video posted on Twitter.
"The people of Venezuela have initiated the end of the usurpation," he said in a subsequent Twitter post. "At this moment I am meeting with the main military units of our armed forces, beginning the final phase of Operation Freedom."
Lopez, who has been under house arrest since July 2017, said in a Twitter post that he had been rescued by the military and called on all Venezuelans to take to the streets in peaceful protests.
Information Minister Jorge Rodriguez tweeted that the government was up against a coup.
"We are currently confronting and deactivating a small group of traitorous military personnel who [are conducting] a coup d'etat against the constitution and the peace of the republic," Rodriguez said, blaming the rebellion on the "murderous far-right."
Maduro's right-hand man Diosdado Cabello later said the Guaido supporters had given up "after seeing it would not work," according to NTN24.
Attorney General Tarek William Saab said prosecutors would take action following the "illegal conspiracy."
US Vice President Mike Pence addressed "all the freedom-loving people of Venezuela who are taking to the streets today."
"America will stand with you until freedom and democracy are restored. Vayan con dios! [God be with you!]," he tweeted.
Colombian President Ivan Duque called on Venezuela's people and soldiers to support Guaido, while Foreign Minister Carlos Holmes Trujillo said he was trying to call a meeting of the Lima Group of American countries to discuss the situation.
Bolivian President Evo Morales, a Maduro ally, tweeted that he condemned "the attempt at a coup d'etat by a right wing which is submissive to foreign interests," while Cuban President Miguel Diaz-Canel accused the "coup movement" of trying to spread violence and "terror."
Guaido, who has been recognized by more than 50 countries as Venezuela's interim president, has been trying since January to topple Maduro, who won a second term in a disputed election last year and has presided over an economic meltdown.
Maduro has been able to hang on to power thanks to the support of the vast majority of the army, though hundreds of soldiers have defected to Colombia.
"Our support for Juan Guaido has not changed in any way," German Foreign Minister Heiko Maas said in Brasilia on Tuesday after meeting his Brazilian counterpart, Ernesto Araujo. "We are observing current developments very closely."