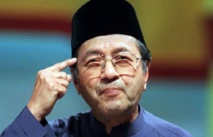 "The Agong [king] has indicated he is willing to give a full pardon. Anwar will be released as soon as he is pardoned," Mahathir told a press conference in Kuala Lumpur.
Anwar is currently serving a jail sentence for sodomy and is meant for release on June 8.
Mahathir was sworn in as Malaysia's prime minister on Thursday night, after the 92-year-old former premier and his opposition coalition won a shock election victory. He has pledged to step down from power in time and to set a path for Anwar to become prime minister.
Mahathir, who previously ruled Malaysia as prime minister from 1981 to 2003, joined forces with Anwar, his former deputy prime minister, in the recent elections.
In the late 1990s, Mahathir had Anwar imprisoned for the first time on bogus sodomy charges. But the two agreed to set aside their difficult past in a bid to unseat premier Najib Razak from power.
Anwar's wife, Wan Azizah, the opposition coalition's choice for deputy prime minister, stood beside Mahathir as he made the announcement on Friday.