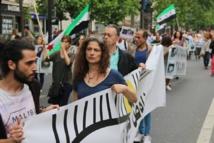 Her death was confirmed by her cousin Dima Wannous, an author, who did not specify a cause. A colleague, Faris al-Hilou, said she died of a heart attack.

Ms. Skaf was jailed, accused of treason and repeatedly harassed after joining peaceful demonstrations against the government beginning in 2011. Fearing further retaliation — she received death threats — she escaped to Jordan and then continued to Paris, where she had been living since 2013 in self-imposed exile.

"I will not lose hope," she wrote on her Facebook page two days before her death. "It's the great Syria, not Assad's Syria."

The National Coalition for Syrian Revolutionary and Opposition Forces issued a statement after her death expressing confidence that her "hope will continue to be a beacon for all free Syrians."

A popular film and television actress, Ms. Skaf was among the first of about 30 Syrian entertainers, artists and intellectuals to challenge the government crackdown on Arab Spring dissidents in 2011 in what became a continuing civil war that has claimed hundreds of thousands of lives and displaced 12 million peopl

Supported by Russian air power and Iranian-backed troops, government forces have reclaimed rebel-held territory after killing civilians with sieges, airstrikes and chemical weapons.

In a 2013 interview that appeared in Al Quds Al Arabi, an Arabic-language newspaper in London, Ms. Skaf spoke of the impact of the Assad government's constraints in broad terms.

"What about the lost dignity?" she said. "What about poverty, pain and disease? What about marginalization? What about daily humiliation and the daily enslavement of human beings? What about the loss of hope?"

When she was interrogated after one arrest, she said, an officer demanded: "What do you want? Do you want freedom?" To which she said she replied, "My wish is that my son will not be led by the son of Bashar al-Assad!"

Ms. Skaf was born on April 13, 1969, in Damascus to a Muslim father and Christian mother. Survivors include her mother and her son, who was a teenager when she fled and later joined her.

She studied French literature at Al-Sham Private University in Damascus. Encouraged by an uncle, Saadallah Wannous, a well-known playwright, she began acting while still a student.

In 1992, she starred in a Syrian television version of Agatha Christie's novel "Sleeping Murder." She was cast in her first film, "Echoes of Slides," in 1993; appeared in the TV series "The Silk Bazaar" (1996) and "The Last Days of Al Yamama" (2005); and in 2008 returned to film in "Damascus: The Smile of Sadness" (2008). One of her last appearances was in "Orchidia," a 2017 Syrian soap opera shot in Tunisia and Romania.

Before Ms. Skaf left Syria, she also ran a theater group that gave performances and acting classes.

She staged her first protest against the Assad regime in 2011 and was detained. A few years later she was told to fear for her life.

"They dared not do anything to me," she said in a 2016 interview in Paris with the website toutelaculture.com, "because they pretend to fight the terrorists, and I am not one of them."

Supporters drove her to Beirut, where she was reunited with her son. When she reached Paris, she continued her political advocacy.

In 2016, Ms. Skaf symbolically offered herself as fodder for four Libyan tigers at a demonstration in Berlin to protest the rejection faced by refugees fleeing war.

Participating in that protest, staged by the Center for Political Beauty, a German artist collective, she said that because European countries had curtailed asylum, "thousands faced the choice between the inevitable death of war and possible death at sea in unsafe ships, guided by charlatans."
----------------------------
The New York Times