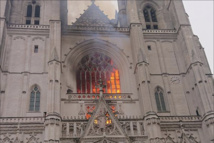 According to media reports, over 100 firefighters were deployed to the Cathedral of Saint Pierre and Saint Paul to extinguish the blaze.
In a video posted by firefighters, flames can be seen through the church's front windows while smoke pours out of them.
According to the Nantes diocese, the church had also caught fire in 1972, destroying its roof. After restoration work, the church, which bleongs to the French late Gothic style, reopened its doors in 1985.
In 2015, a spectacular fire destroyed the basilica of another church in Nantes, the Basilica of Saint Donatian and Saint Rogatian.
Saturday's fire comes a little more than a year after the Notre Dame Cathedral in the capital, Paris, caught fire, destroying the roof of the 12th-century Gothic cathedral as well as its 93-metre-high spire.
French President Emmanuel Macron expressed his support for firefighters saving this "Gothic jewel," while Prime Minister Jean Castex said he would travel to Nantes on Saturday to see the damage.