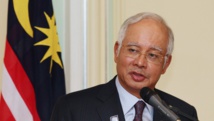 Speaking at a news conference, federal commercial crime investigation chief Amar Singh called it the largest seizure in Malaysia's history.
Amar said it took police from May 21 to June 25 to determine the value of cash and 12,000 jewellery pieces, 423 watches, 234 sunglasses and 567 handbags that were seized.
Mahathir Mohamad, the country's new prime minister, reopened the corruption case against Najib after taking power on May 9, following a surprise election victory by his opposition coalition.
Najib, who has denied any wrongdoing, is accused of misappropriating some 4.5 billion dollars from the 1MDB state fund, including nearly 700 million dollars that were allegedly transferred directly into his personal bank account.
The 1MDB investigation also involves his wife Rosmah Mansor. Both have been questioned by corruption officials and may be prosecuted. They have been barred from leaving the country.
In May, authorities raided several properties belonging to the couple, confiscating 284 Birkin handbags and 72 suitcases filled with cash and other valuables.
Malaysians have compared Rosmah to former Philippines first lady Imelda Marcos, who was notorious for her collection of designer shoes.
US Attorney General Jeff Sessions has called the 1MDB scandal an example of "kleptocracy at its worst."