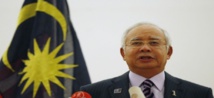 Najib, who may face criminal charges, was summoned by the MACC on the weekend. He appeared calm as he made his way through a media scrum outside the building.
Authorities seized 72 bags of jewellery and cash, as well as 284 boxes of luxury handbags, from properties linked to Najib last week.
A total of six properties have been searched as part of the 1MDB probe, according to commercial crime investigation director Amar Singh.
Mahathir Mohamad, the country's new prime minister, reopened the corruption case against Najib after taking power on May 9 following a surprise election victory by his opposition coalition.
The former prime minister and his wife have been barred from leaving the country.
Najib is accused of misappropriating some 4.5 billion dollars from the 1MDB state fund, including nearly 700 million dollars that were allegedly transferred directly into his personal bank account. He has denied any wrongdoing.
Najib's attorney general previously cleared the former premier, claiming the transfer to his account was a donation made by a member of the Saudi royal family, which was then partly returned.
At least five governments, including those of the United States, Switzerland, Indonesia, Singapore and Hong Kong, have opened investigations related to 1MDB.
US Attorney General Jeff Sessions has called the 1MDB scandal an example of "kleptocracy at its worst."
The MACC will hold a special press conference at 11:30am local time (0330 GMT).