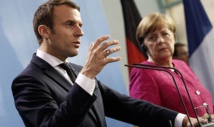 The German chancellor was greeted by Macron and his wife Brigitte in the fortress courtyard on her arrival, and then went indoors for a planned two hour meeting, followed by a press conference and working dinner.
The seaside stronghold, on the Cote d'Azur between Toulon and Saint Tropez, is not a new scene for diplomatic encounters.
Macron met Russian President Vladimir Putin there last summer ahead of the summit of the G7 group of major industrial powers, a group from which Russia was excluded after invading Ukraine's Crimea region in 2014.
The last German chancellor to visit was Helmut Kohl, invited by Francois Mitterand in 1985.
Macron and Merkel are expected to discuss the coronavirus crisis, and its implications at the European level.
The two were instrumental in pushing through an EU-wide deal last month that saw member countries approve the joint issuance of debt for the first time, in an effort to provide funds for countries hardest hit by the virus' spread.
They are also likely to discuss political instability in Lebanon, the ongoing war in Libya, political unrest in Belarus after a disputed election, and growing tensions in the Mediterranean between Greece and Turkey about the right to prospect for oil.
Macron has been active in trying to seek solutions in Lebanon, while Merkel has mediated in the Mediterranean issue. But France's assertive stance against Turkish involvement in the Mediterranean and Libya is not shared by all EU members.
The question of Mali will probably be a last-minute addition to the agenda, after a military coup on Tuesday seems to have led to the incarceration of the president and prime minister.
France has some 5,100 troops deployed on a mission against jihadists in the Sahel region, including in Mali. The coup leaders have said they are willing to continue cooperating with the French mission.