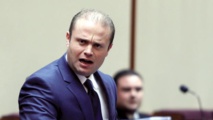 Joseph Muscat
Those in distress at sea would continue being rescued, but Malta will not serve as a hub for the processing of migrants, Muscat said, adding that he would not accept "anyone dumping things" on his country.
The prime minister was speaking during a radio interview on his party radio media channel One.
Malta and Italy have been at loggerheads over the rescue and processing of migrants leaving northern Africa and trying to reach Europe.
On Sunday, Muscat rejected the Italian government's claims that Malta was not adhering to international laws, insisting that all those in distress were always saved but if no assistance was required, the Maltese authorities' "hands were tied" and they could not simply take in people who did not want to go to the Mediterranean island.
The Italian government has adopted a rigidly anti-immigration line, saying it will not let any more rescue ships dock unless other EU states agree to take the people in.