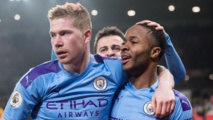 London

(dpa)

-
There is nothing like a trip to face Real Madrid to focus the mind.
For Manchester City, getting a result in the first leg of their Champions League last-16 tie away to Zinedine Zidane's side will be hard enough.
This month's news that City are to be banned for the next two Champions Leagues for violating Financial Fair Play rules shocked English football.
And though City said they will appeal the ban at the Court of Arbitration for Sport (CAS), their players will relish the chance to focus on matters on the pitch as they try to win the competition for the first time in their history.
The Champions League is the only competition that City manager Pep Guardiola has not won with the club, with two quarter-finals their best efforts in his four previous seasons in charge.
But the Spaniard's pledge to remain in charge next season, no matter what, will have settled the players' minds and he wants his players to express themselves at the home of the record 13-time champions of Europe.
"We have to show our personality," said Guardiola, the former Barcelona and Bayern Munich manager who won the elite event in 2009 and 2011 with Barca.
"I know my players, myself, all the club want to fight until the end for this title."
A distant second behind Liverpool in the Premier League title race, the Champions League takes on even more significance for City this season.
Beaten by Tottenham Hotspur in the quarter-finals last season, City have defender Aymeric Laporte back after injury and look back to their best, just at the right time.
"What I want is going there and at the end of the game say 'OK, we were what we are'," Guardiola said.
"That is the most important thing in these competitions, don't leave anything there… go and show it in front of one of the biggest, nicest prestigious stadiums in the world, do it."
Striker Sergio Aguero believes City's experience in the competition, including losing tight battles, should serve them well against Madrid.
"I believe all these years have been a learning experience for us," Aguero told City's website.
"We have to remember that City didn't begin to participate in this competition until 2011, but now we are able to be a challenger. Each campaign, we acquire more experience and learn new things."
Dominant domestically with four Premier League titles in the past eight years and in each of the past two, City have struggled to get over the line in Europe.
Aguero emphasized the margins between victory and defeat.
"The decisive factor over two legs can come down to technicalities - our last experience against Tottenham (last season) is a testament to that," he said.
Guardiola expects to have forward Raheem Sterling back after a hamstring injury but said getting past Madrid would be a huge achievement.
"It's the real test," he said. "(They are) the king of this competition.
"You have to beat the big clubs. So, we are going to try. If we are able, we will be so happy. If we don't, next season."