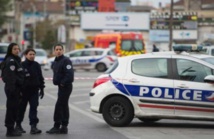 Seven people were hurt, including four who suffered serious injuries, the news agency AFP reported, citing police.
The man, believed to be from Afghanistan, began attacking passers-by with a knife outside a cinema at the Quai de la Loire in the city's 19th district at around 11pm (2100 GMT).
A witness said that around 20 people then chased him. Some of them had been playing the bowling game petanque and tried to stop him by throwing the heavy balls at him, the witness said.
The man then ran away and attacked further passers-by, including two British tourists before police managed to arrest him. He was also armed with an iron bar.
"We are urgently investigating this incident and are in close contact with the French authorities," the British Foreign Office said in a statement.
Notepad