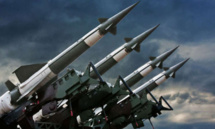 Gaza's Health Ministry said in a statement that Mohammad Nasser, 22, was killed in an Israeli airstrike on the northern Gaza Strip.
Sirens continuously wailed in Israeli communities near the border with Gaza, warning residents to take shelter. Sirens also rang out in communities in the south-centre of the country.
The Iron Dome aerial defence system intercepted dozens of projectiles.
The army said it targeted a number of military posts belonging to the radical Islamist Hamas movement, which rules Gaza. It earlier confirmed that it had hit two rocket launchers in northern Gaza.
Three Palestinian civilians were also injured in the airstrikes by Israeli warplanes in different parts of the coastal enclave, Palestinian medics and local media stations reported.
No direct injuries from the rockets were reported on the Israeli side, though a teenager was slightly hurt while running to a shelter and two others were suffering from shock, Israeli media reported.
Israeli security officials were holding an emergency security meeting in light of the the escalation.
Early Saturday, the army announced that "following the situation assessment, it has been decided in the IDF (Israel Defence Forces) to block areas and routes adjacent to the security fence with Gaza."
This came after four Palestinians were killed and 51 injured in clashes with Israeli forces along the border fence on Friday. Two Israeli soldiers were wounded by Palestinian gunfire.
The clashes came during weekly anti-Israel protests in the eastern Gaza Strip.
Two of those killed were demonstrators, Gaza authorities said, and two were Hamas militants, according to Palestinian security sources.
The two militants were killed in an Israeli airstrike on Friday on a Hamas training facility. The strike came shortly after gunmen opened fire at an Israeli army force stationed on the border with eastern Gaza Strip and wounded two soldiers; one of them sustained moderate injuries while the other suffered light injuries.
The escalation comes following a period of relative calm amid Egyptian efforts to negotiate a ceasefire between Israel and Hamas, following the most recent flare-up at the end of March.
Hamas is classified by the EU, Israel and the US as a terrorist organization.
Israel and Egypt have imposed a blockade on Gaza for over a decade, citing security reasons.
Notepad