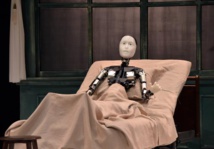 Chief executive officer Till Reuter and the head of Kuka's supervisory board, Andy Gu, are "in talks about the early termination of their executive board activity," the listed company said in a statement.
There were no further details from the company, which said that the supervisory board has yet to make a decision about the "possible changes to the management."
Reuter, who has headed Kuka since 2007, was reappointed chief executive last year and his contract lasts until March 2022.
Sources in the company told dpa on condition of anonymity that the Chinese leadership of Midea was attempting to accelerate the integration of the company and increase its control over the management of Kuka.
Kuka, which employs a total of 13,710 people, recently revised its revenue prediction for 2018 from 3.5 billion euros (4 billion dollars) to 3.3 billion euros.