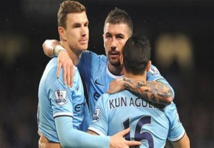 "In the penalties, anything could happen, we were lucky," City manager Pep Guardiola said.
"I'm happy, but compliments to Chelsea, incredible performance. (It's great) to win back to back in this competition for the first time in history."
The match ended in controversy when Chelsea manager Maurizio Sarri tried to send on goalkeeper Willy Caballero late in injury time, only for Kepa Arrizabalaga to refuse to go off.
Jorginho missed the first penalty for Chelsea but Kepa saved from Leroy Sane to give Chelsea hope, only for David Luiz to miss and Sterling to fire in the deciding penalty off the underside of the bar.
"Chelsea played a really good game but we kept focused and did the business," City striker Raheem Sterling said.
"It's a great feeling. It was a tough game but it's just amazing. The boys were brilliant today."
With City fighting for trophies on four fronts, including the Premier League, Sunday's win gives City momentum but Sterling said the players would not get ahead of themselves.
"One trophy down, we just need to keep winning games and that's it," Sterling said.
Guardiola agreed, saying: "I don't know how far we're going to arrive because (Aymeric) Laporte, Fernandinho (are injured). We will be there but we'll see how far we arrive."
It is the first time that City have successfully retained a major title, while it is the 21st trophy as manager for Guardiola.
City went into the match as favourites but Chelsea made life difficult for Guardiola's side, with just one shot on target between the two sides in the 90 minutes.
That honour went to Nicolas Otamendi and though City had two more in extra time, neither side did enough to win it, though the actions of Kepa left Sarri livid on the sidelines.
The penalty shoot-out began with Jorginho, whose tame effort was easily saved by Ederson.
Ilkay Gundogan made it 1-0 for City but Cezar Azpilcueta scored to level at 1-1. Sergio Aguero just about put City in front with a scuffed shot before Emerson scored to make it 2-2.
Sane then saw his shot saved by Kepa, low to his right but David Luiz's penalty hit the post to put City in charge again.
Bernardo Silva fired down the middle to make it 3-2 and though Eden Hazard levelled with a brilliant chip, Sterling slammed in the winner.
Sarri said the situation with Kepa was "a big misunderstanding."
"I understood the goalkeeper had cramp and was unable to go to the penalties, but it was not cramp," Sarri said. "I understood it was because of his physical condition but now I know it wasn't."
Sarri said he was proud of his team and that he believed he had the backing of his players.
"After this match I have to say that I am sure because they played exactly as I asked. Today I am proud.
"I am really very happy. I think in the last three matches we have improved a lot.
"Today we showed to everyone that we could become a very solid team, because we conceded nothing to the opponents, against Manchester City that is not easy."
Notepad