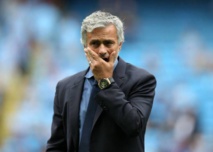 The Football Association, using a lip reader, alleged Mourinho had caused offence by swearing in his native Portuguese, but an independent regulatory hearing vindicated him.
"A charge against Jose Mourinho for allegedly using language which was abusive and/or insulting and/or improper has been found not proven following an independent regulatory commission hearing," the FA said in an online statement issued Wednesday.
"Written reasons for the decision of the independent regulatory commission will be published in due course. This decision is subject to appeal."
United fought back from two goals down against Newcastle to win 3-2 in the October 6 match.