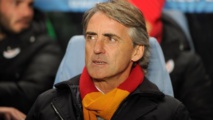 Rome -
By Alberto Cagliano,
– Roberto Mancini savoured a morale boosting victory at the start of his tenure as Italy coach, beating Saudi Arabia 2-1 late Monday in a friendly that ended a glum run from La Nazionale.
Having two thoroughbred strikers like Mario Balotelli and his substitute Andrea Belotti on target in the Swiss town of St Gallen was welcome news after the single goal scored in the past four winless outings
The win, however, was cold comfort for the four-time world champions, who won't play the World Cup finals for the first time in 60 years and will watch the Saudis open the tournament against hosts Russia on June 14.
"Even if Saudi Arabia are a way behind in the ranking [sitting 67th as Italy are 20th], they're a good team with good chemistry," Mancini said. "It's a win that only has a relative value but it's always better to start with a win to keep morale high."
Mancini, who was hired two weeks ago, called up several young players in his effort to rebuild a team that floundered through the qualification phase under Gian Piero Ventura, missing the World Cup in a lacklustre play-off with Sweden in November.
He also summoned long-time absentee Balotelli and defender Domenico Criscito, who hit the bar, as both provided a good showing on their return after four years.
"Mario can do a lot better," said the tactician, who coached Balotelli in his two title winning campaigns at Inter Milan and Manchester City. "But he did quite well for his first match back, especially in the first half with that goal."
Balotelli had a minor muscular issue and exited for Belotti in the second half, but looks forward to Friday's luxury friendly with France in Nice, where he played the last two seasons.
Italy then displayed a couple of defensive blunders as they conceded in the second half, which Mancini ascribed to fatigue as the domestic season ended on May 20.
"This is a new cycle. We're young, calm and we have a lot of time to work and improve together," centre back Alessio Romagnoli said. "I'm sorry about the World Cup, it's everyone's dream and it's a disappointment for a side such as us to not be in Russia but we have to think of the future."
Mancini now leads the Azzurri into tougher tests first with Les Bleus and then the Netherlands on Monday.
"Now, we have to look to give a good account of ourselves against France, it's a match that will benefit the youngest players and some others who will play," he said.