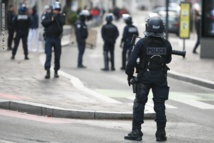 Interior Minister Christophe Castaner said another 12 people were injured, six seriously, by the attacker, who first opened fire at 7:50 pm (1850 GMT). Soldiers from an army anti-terrorism patrol shot at him but he escaped.
The man then exchanged fire with security forces twice more in slightly over an hour. Some 350 personnel including police special forces and troops, backed up by two helicopters, were searching for him, the minister said.
One of the three killed was a 45-year-old Thai tourist, who had arrived in Strasbourg with his wife on Tuesday, said Busadee Santipitaks, a spokeswoman for Thailand's Ministry of Foreign Affairs.
The Strasbourg Christmas market, one of the best-known in France, takes place in the centre of the city, which is near the German border. It is a major tourist draw.
Mayor Roland Reis told BFMTV television he did not know how the attacker had been able to get into the market "despite all the security instructions."
Authorities quickly put the city centre and other major sites, including the European Parliament and a sports arena, in lockdown.
Well after midnight, European Parliament president Antonio Tajani told lawmakers they could head home as long as they were staying outside the city centre, which he said was still not safe.
Basketball club SIG-Strasbourg tweeted a video of what it said was more than 5,000 attendees at the nearby arena singing the French national anthem in honour of the victims, shortly before they too were told they could head home.
Police warned people in the city centre, where many were apparently locked inside shops, bars and a theatre, to leave northwards only and to avoid the south of the city and the Neudorf area, which was apparently the centre of the manhunt.
Television images showed a heavy police deployment in Neudorf, with some streets blocked by army vehicles.
Castaner, speaking from Strasbourg after an emergency meeting with local officials, said the government was raising France's terrorism alert level and beefing up checks at the borders.
In the hours after the attack, German police at nearby border crossings stopped cars heading into France.
Castaner also announced reinforced security checks would take place "at all the Christmas markets taking place in France to prevent copycat attacks."
The suspect was "extremely unfavourably known" to police for non-terrorist crimes, with previous convictions in both France and Germany, and had served time in prison, Castaner said.
France 3 regional television, citing sources close to the investigation, said that authorities had planned to search the suspect's house on Tuesday morning in relation to a manslaughter probe but he had not been there.
Mayor Reis announced a day of mourning in Strasbourg on Wednesday, with the Christmas market closed and all artistic and musical performances cancelled.
President Emmanuel Macron expressed his condolences to the victims on Twitter after attending a crisis meeting at Interior Ministry headquarters.
"All the nation is in solidarity with Strasbourg, the victims and their families," he tweeted.
Tajani had earlier told EU lawmakers locked inside the European Parliament building they should continue their debates.
"Let us react with the strength of democracy and of freedom to the violence of those who want to destroy civil coexistence in one of the capitals of Europe," he urged.
The Strasbourg attack is the third deadly incident in France this year to be officially categorized as terrorism.
In May a Chechen-born French citizen killed one man and injured five other people in a knife rampage near the Opera in central Paris.
Two months earlier, a petty criminal turned Islamist terrorist killed four people, including a gendarmerie officer who had given himself up in exchange for a civilian hostage, in a series of attacks in the towns of Carcassonne and Trebes.
More than 230 people were killed in terrorist attacks in France in 2015 and 2016, most of which were claimed by the Islamic State extremist organization.