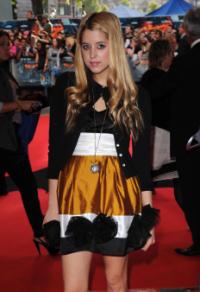 stage during a recent Chester French gig in New York and went "berserk", the Daily Mirror reports.

A source told the newspaper: "From nowhere, Peaches just went berserk. The group were performing when she suddenly burst onto the side of the stage.

"After every song she was running around like a gazelle - distracting the band and making an exhibition of herself. Max looked utterly disheartened by her mad antics.

"At one point he was sobbing into his mum's shoulder, saying 'I can't do it'. Afterwards the rest of the group kicked off, banning Peaches from their dressing room.

"It's unusual for Max to blow up like this - he is usually so placid. Clearly there is trouble in paradise."

It's not been a great week for Peaches after her first column for the New York fashion magazine Nylon received a barrage of negative comments.

One comment - apparently written by the British columnist AA Gill - read: "The banality is shocking. Get some life experience, keep your head down and until you do, save us from this insipid, vacuous social commentary that justifies the dislike of you," the Mail Online reports.